S&S International Express, definition for luxury travel
S&S International Express offers a wide range of luxury transport services in and around Malaysia. This travel agency provides a good variety of travel options at reasonable price. Malaysia being a commercial as well as a major tourist spot for many people across the globe needs to have a very good transport facility and S&S International Express serves the same to its clients.
This agency provides comfortable 29- seat fully air-conditioned buses that are well equipped with sound engine and accessories. The seats are very comfortable. The drivers are well skilled and tested.
S&S International Express operates from its head office at Singapore, with its branch counters at different places listed as Malacca, Mersing, Kuala Lumpur and Johor Bahru. The buses run in different routes that connect bus from Singapore to Johor, Malacca to Mersing, Johor Bahru to Mersing, Mersing to Kuala Lumpur. There are frequent buses traveling in these routes to and fro for the convenience of the travelers. Since these buses have non-stop and fixed routes it is better for people who would want to reach their destinations early.
All the buses begin from a key point in downtown Singapore. The only disadvantage of these bus routes is that the buses do not stop at individual hotels for tourists but, it would straight away take them to the bus terminals and from there the tourists need to manage on their own. That is the reason these buses have early departures so that you can get local transport to your hotel or any other place easily before it is too late.
Though, tourists are advised to check and satisfy themselves for the agency that they are going to travel with, S&S International Express has lived up to its expectations over the years of its operation in Malaysia and promises to emerge as a better service provider in the field of transport and communication in Malaysia.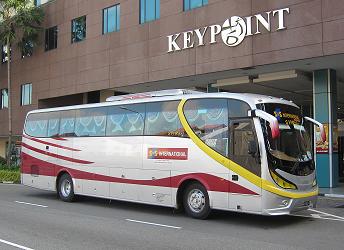 S&S International Express Office:-
Bt.48, Terminal Larkin (Iskandar Malaysia),
81200 Johor Bharu, Malaysia
Tel : 07 773 1246
Online bus booking can be made @ http://www.easybook.com
S&S International Express Bus Schedule
Please Note: The schedule and fares stated by the table below in Singaporebus.org  only serves as a guide. The alteration of fares and time schedules are at the preference of the bus/coach operators. Therefore, it's durably advisable to contact the bus operators for most updated information.
| | | | | |
| --- | --- | --- | --- | --- |
| From | From Sub Place | To | To Sub Place | Time |
| Singapore | City Plaza Singapore | Malacca | Melaka Sentral / Bus Station | 08:30 AM |
| Singapore | Key Point | Malacca | Melaka Sentral / Bus Station | 08:45 AM |
| Singapore | City Plaza Singapore | Malacca | Melaka Sentral / Bus Station | 01:00 PM |
| Singapore | Key Point | Malacca | Melaka Sentral / Bus Station | 01:30 PM |
| Singapore | City Plaza Singapore | Malacca | Melaka Sentral / Bus Station | 06:45 PM |
| Singapore | Key Point | Malacca | Melaka Sentral / Bus Station | 07:15 PM |
| Malacca | Melaka Sentral / Bus Station | Singapore | Key Point | 08:00 AM |
| Malacca | Melaka Sentral / Bus Station | Singapore | Key Point | 13:30 PM |
| Malacca | Melaka Sentral / Bus Station | Singapore | Key Point | 19:00 P |